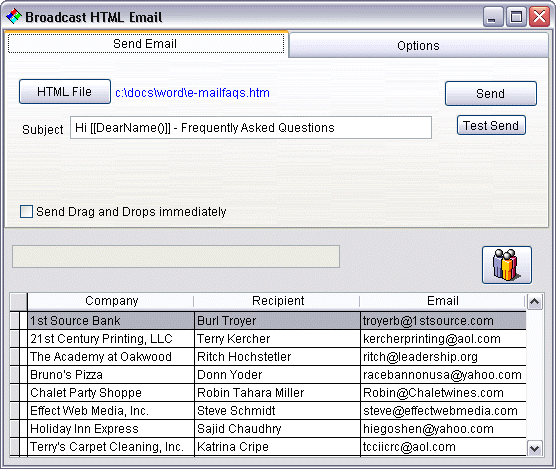 Visual ChamberWare's HTML Email form allows you to merge member data directly into the body of an HTML file, and then send it directly out to your members. This form bypasses using Microsoft's Outlook programs, and goes direct to the net. Over the years Microsoft has integrated all kinds of security methods, making broadcast e-mailing more cumbersome. Bypassing Microsoft all together helps alleviate these issues!
This feature is also especially useful for broadcasting your newsletters or flyers. The HTML format allows you to embed your images and utilize all sorts of colors and fonts. When your recipients open the e-mail, all the objects are right there in front of them! There is no need for them to download objects off of a website, or click a button to unblock images. It appears as though they are looking directly at your website content within the body of their e-mail!
The HTML format offers profound capabilities in creating and designing your content the way you want. Many Chamber's already have a monthly newsletter posted on their website. With the Visual ChamberWare HTML E-mailer, they are able to send their members that same content in the body an e-mail. Once the recipient opens the e-mail it appears as if they are looking right at your website itself! You can also integrate all kinds of Hyperlinks (website links) to other content on-line.
For example: Create an Event invitation in HTML and establish a link that directs the members to your website. You can then offer your member all kinds of services. On-line registration and payment methods. All it requires is an on-line merchant account that your local web guy can assist you in establishing.